Deer Proof Perennials
I have found that spraying my flower bed with deer repellant products will help protect the non-resistant plants. Some work better than others. The important thing to remember is to spray early in the season before the deer get a taste of their favorite food otherwise, they will feed even with the spray on the plant. Continue to spray throughout the growing season. Time the spray application according to label recommendations. You may have to re -spray after a heavy rain.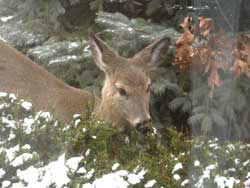 Following are deer proof perennials -these are not their favorite plants but deer will eat them if there is little else to feed on.
Ajuga
Angelica (Angelica Archangelica)
Artemesia
Asclepias
Astillbe
Baby's Breath(Gypsophyla)
Bellflower (Campanula)
Bergenia
Big Bluestem (Andropogon gerardii)
Black cohosh, Black snakeroot
Bleeding Heart (Dicentra)
Boltonia (Boltonia asteroides)
Bugbane (Cimicifuga racemosa)
Bugleweed (Ajuga)
Buttercup (Ranunculus sp)
Candytuft (Iberis)
Catmint (Nepeta cataria)
Chrysanthemum(Dendranthema)
Columbine (Aquilegia Canadensis)
Coneflower (Echinacea)
Coreopsis
Dead nettle (Lamium)
False indigo (Baptisia)
Fleece flower (Polygonum)
Foxglove (Digitalis)
Gay feather (Liatris)
Gloriosa daisy (Rudbeckia hirta)
Goatsbeard (Aruncus)
Heather (Calluna sp.)
Iris
Jack-in-the-Pulpit (Arisaema triphyllum)
Jacob's ladder (Polemonium)
Knapweed Centurea sp.)
Lady's mantle (Alchemilla)
Lamb's ears (Stachys byzantina)
Lenten rose (Helleborus orientalis)
Liliy of the valley (Convallaria)
Little bluestem(Schizachyrium)
Lungwort (Pulmonaria)
Maiden grass (Miscanthus
Oriental poppy (Papaver orientale)
Pachysandra
Peony (Paeonia)
Prickly pear (Opuntia)
Primrose (Primula)
Rhubarb (Rheum)
Russian sage (Perovskia)
Shasta Daisy (Chrysanthemum x superbum)
Soap weed (Yucca elata)
Stone crop (Sedum acre)
Turtlehead
Wild bergamot, bee balm (Monarda)
Yarrow (Achillea)
Yellow archangel (Lamiastrum)
Yucca
Veronica
Vinca
Deer resistant bulbs
Allium
Crocus
Daffodil (Narcissus sp.)
Frittilaria
Glory-in-the-snow (Chionodoxa luciliae)
Grape hyacinth (Muscari sp.)
Snowdrop (Glanthus nivalis)
Striped Squill (Puschkinia scilloides)
Winter aconite (Eranthis hyemalis)