Grow cilantro
Cilantro (Coriandrum sativum) has glossy parsley-like foliage that at times makes it hard to tell the difference between parsley and cilantro at the produce market. All you need to do is smell the light pungent aroma, and you'll know the difference.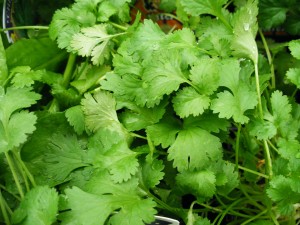 Grow cilantro in light well-drained soil in full sun to part shade. Sow the seeds outdoors in late spring after the last frost date. Plant in rows in the garden or a container, cover with 1/2″ of soil and keep moist for good germination. Avoid heavy nitrogen feedings for best flavor. In the garden, thin seedlings 4″ apart. For continued supply, repeat sowing every two weeks until the hot weather arrives. Cilantro will start to mature quickly (bolt) and go to seed in the hot temperatures of summer. It may self seed or you can re-sow seeds in late summer for an additional fall harvest. Cilantro will tolerate a light frost.
Harvest the parsley-like foliage regularly to keep the plant producing more leaves. Cut the plant 2″ above the soil line. In hot weather, cilantro will start to grow taller and produce feathery, upper foliage. This is an indication that it's going to flower(bolt) and produce a round ribbed beige seeds. If left on the plant, they will reseed or can also be harvested as coriander. Stored them in a dark, airtight container.
Uses
Cilantro leaves are used in Mexican, Middle Eastern and Asian cuisine. Fresh leaves do not dry or freeze well. Stems are usually discarded but can be used to flavor soups and beans. The seeds known as coriander are used in baked goods, curry powder and liqueurs. The Egyptians thought it was an aphrodisiac and Greeks used it to flavor wine.