Fairy Gardens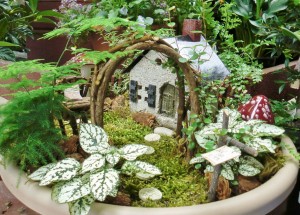 The new hot rage in mini gardening! Fairy Gardens have come a long way. Grown in container, they can be enjoyed indoors and well as outdoors.
Just like miniature doll houses,  Fairy gardens take us into a small magical world outside.  A diminuitive garden scene lures our imagination to an enchanted Fairyland. A small cottage nestled among tiny ferns with a walkway  leads us to a gazebo covered with  button fern vine.
Plants used in mini gardening.
It's best to use plants that will not grow too big too fast.
Wooly thyme (Thymus Lanuginosus)
Irish moss (Sagina suulata):
Baby tears (Soleirolia):