Grow Zinnia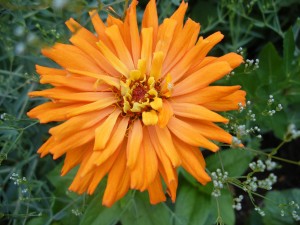 Zinnia a native of Mexico is grown as an tender annual.  It tolerates the summer heat and produces one of the best colorful display of flowers during the summer.
With so many varieties, zinnias come is all sizes from 6 inches to 4 feet tall. The flowers, which attract butterflies range from 1″ button shape to large double flowers that are 7″ across.
Care
Zinnias are one of the easiest annuals to grow. Plant them outdoors in full sun in rich, fertile soil. They stand up to summer heat but will not tolerate cold so be sure to plant them when night temperatures are above 50F. Zinnia should be spaced ½ distance of their mature height. For example, if the variety's mature height will be 24″ tall then space them 12 inches apart. Plant taller varieties in back of the flower bed. Fertilize at planting and then once a month during the growing season.
Water
As with all plants, zinnia should get at least 1″ of water per week. Water in the morning and avoid getting the foliage wet. Mature plants will tolerate dry conditions but for best bloom be sure they get enough water during hot weather.
Start from seeds
Plant seeds indoors 4-5 weeks before setting outside. Sow seeds 1/4″ deep and keep the soil moist. For good germination maintain seed flat with a bottom heat of 70 F. Seeds should germinate in 7-10 days @ 75F. Once germinated you can reduce temp to 60F. Seeds started at lower temperatures 50F will germinate less or rot in the soil. Transplant seedlings into cell packs or small pots when they develop 2 pairs of true leaves.
You can sow seeds directly outdoors in rich well drained soil after danger of frost has passed. Depending on variety space plants 4″-24″ apart. Pinch back your plants when they have 4-6 leaves to get bushier plants. You should have flowers by midsummer until frost.
Maintenance
Deadhead-Remove faded flowers for longer bloom.
Support taller plants with stakes.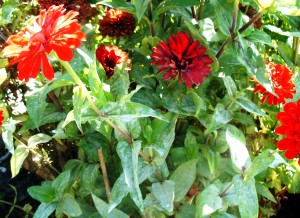 Disease
The biggest problem with zinnia is powdery mildew which shows up during hot days and cool nights.Avoid crowding plants and good air circulation.

Cut flowers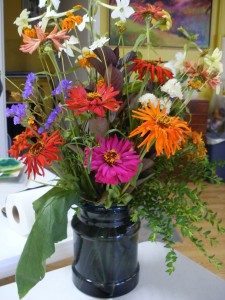 Garden zinnias (Z elegans) make excellent cut flowers to use in arrangements.
For cutting flowers grow the large-flowered class such as
Giant cactus – Big Top and Fruit Bowl- which produce large 6″ ruffled flowers and gets 22″-24″ tall.
State Fair Mix 5″-6″ flowers. Popular variety. Good resistance to powdery mildew and alternaria.
Ruffles Series F1 is also a tall variety 24″-30″ with 2 ½" ruffled double flowers.
For garden plantings
Peter Pan- large 3 slightly curled, double flowers get 10-12″ tall.
Pulcino – 2 ½ flowers, get 10-15 tall. Is more resistant to disease than most zinnias
Pumilas – 2″-2 ½" small pompon flowers on bushy plants that get 1 ½-2″ tall
Lilliput- semi-dwarf grows 12″ tall and produces small pom-pom or conical shape blooms
Thumbelina extra-dwarf 1 ½ double flowers and grows 6″-8″ tall nice compact plant great for edging
Zahara series- new variety with larger flowers and disease resistance gets 12″-18″ tall,
Mexican zinnia (Z. baageana) 1 ½"-2″ flowers, single, double, gets 12″-18″ tall. Comes in red, mahogany, yellow, orange, some two toned. Persian carpet one of my favs.