Incredible Edible flowers
Did you know that there are a number of flowers that you can eat?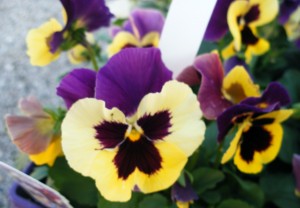 Edible flowers have been enjoyed as a culinary delight throughout history. They were used to enhance the flavor and texture of foods when spices were not readily available or too expensive to use. Today, there is a resurgence in the use of edible petals. A new trend in nouvelle cuisine includes them in teas, salads, entrees and desserts.
Here are some edible flowers that you can try:
apple blossoms, calendulas, carnations, daylily, dianthus, hibiscus, honeysuckle, lilacs, marigolds, nasturtiums, petunia, primrose, roses, tulip petals, tuberous begonia,  viola, pansies, violets, including flowers of herbal plants such as rosemary, borage, basil, lavender and chives. Many are common flowers that you can grow in your garden including dandelions. Each has a distinctive flavor and texture.
Know your flowers
Before using any blossoms, there are some important factors to consider. Make sure that they have been organically grown or are pesticide-free. Do not eat the flowers you buy from the florist, garden center or supermarket, they may have chemicals on them. Specially labeled edible flowers are sold in the produce section at the grocery store.
Grow your own edibles
The alternative is to grow your own. For the best flavor, pick the flowers in the cool of the morning just when they are beginning to open. Remove the pistils and stamens, wash and dry on paper towel. Eat only the petals.
Most important, know what you are eating. Not all flowers are edible – some are poisonous (azalea and oleander) and can make you sick. If in doubt – leave it out!
Chopped, wrapped, stuffed or tossed, flowers can add limitless creativity and interesting new flavors to your kitchen. Try them and see how incredible they really are!
more info:http://aggie-horticulture.tamu.edu/newsletters/hortupdate/2008/jan08/EdibleFl.html