Plant & Gardening Tips
Welcome to Hortchat.Com, your Horticulture and Gardening Tips website!
Hortchat is an interactive community web site where you can get information on gardening and plant tips, ask questions and make comments.
I would like to personally welcome you to the site. My name is Kris and I will be your host. I have a degree in horticulture and have studied and worked with plants for many years. I have also volunteered as a Master Gardener for 20 years.
At Hortchat, we share the trials and tribulations of gardening and growing plants. We may not know everything but we'll try our best to help.
If you have a suggestion or solution to a gardening / plant problem , we encourage you to share it with us by posting in our comments. We are interested in giving folks the best gardening tips and creating a great community of expert gardeners!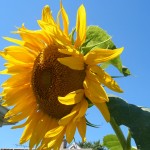 For current updates go to Seasonal plant tips…
Sign up for our  monthly gardening newsletter!
Thanks SO much for visiting, check our site often for the latest articles and comments on your favorite posts.
Feel free to email me anytime at: kris {at} hortchat.com
Warmly,