Seasonal Plant Tips
5 Great Christmas holiday plants
Norfolk Island Pine
Instead of a Christmas tree some may opt for a Norfolk pine (Araucaria heterophylla)which is usually available in stores before Christmas. It may be sold plain or decorated to serve as an alternate mini Christmas tree for those with little space… (Read More).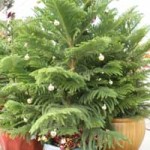 Poinsettia survival guide
For longer bloom during the holiday season place your poinsettia in bright diffused light, away from heating vents (hot dry air) and cold drafts. The cool night temperatures will extend blooming time. Keep the plant evenly moist as moisture fluctuation, cold/hot drafts can cause premature leaf drop.
When watering, be sure to slip off the decorative foil cover or punch a hole in the cover to drain the excess water.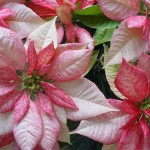 Once your poinsettia survives the holiday season it can be encouraged to rebloom next year.
Cyclamen The florist variety of cyclamen (C. persicum) was 'the plant' during the Christmas holiday in the Victorian era.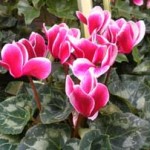 Christmas cactus  offers a profusion of tubular flowers that bloom for two to four weeks around Christmas time.
Amaryllis – great bulb forced to bloom at Christmastime or indoor Winter bloom. Many bulbs kits are available starting in the fall that have all the necessary items needed. It usually includes pot, potting soil mix and the bulb along with planting instructions or you can purchase bulbs online from several sources.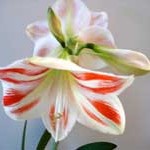 If your poinsettia plant drops its leaves but you still have the colorful "flowers".  Make an easy vase arrangement.